11th Annual National Dodge Charger Meet 1999
Boerne, Texas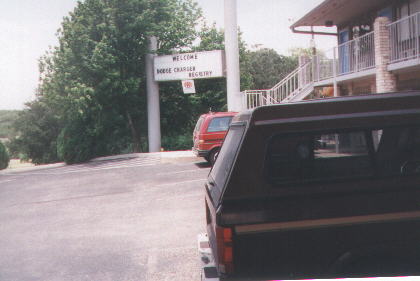 The 1999 National Dodge Charger Meet was held again in Boerne, Texas June 5-6, 1999
Once again I loaded up the EdSled and 700 miles later I was there. No problems on the
way down other then fighting a stiff south wind. This years show had 79 cars. Not has many as
the year before. Thanks to Wayne Wooten and Wes Pieper and all the others who worked hard to make this meet
work out well. Now on with the photo's!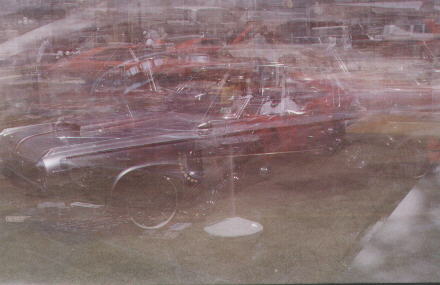 The only mechanical problem while at the meet was my trusty camera
didn't advance the film. Here's 36 pictures on 1 frame. If you look close you
can see a General Lee. A Charger Concept car. A 66 convertible Charger
(Yes convertible) with a 528 crate Hemi in it. The motor had to be put in through
the bottom of the car to fit! Many other fine RT Chargers as well. Look close
theres 36 different pictures there!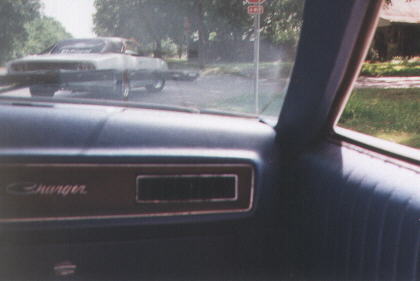 At about 4pm we had the regular cruise we do every year.
This year we went to Luckenbach Texas.
(No we didnt see Waylon, Willie and the boyz)
72 Chargers in single file on a 2 lane black top for 30 miles each way!
An awesome sight!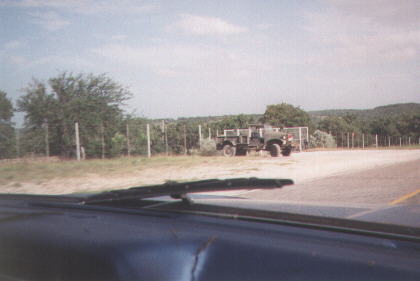 Holy Cow is that a PowerWagon 4 sale! How can I fit it on the trailer
with the EdSled for the trip back home!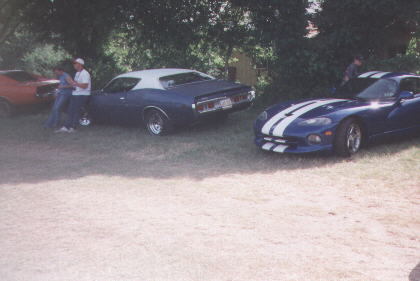 We arrive at LuckenBach and I park next to The General Lee in the shade.
It was hot that day. I forgot.... we Chargers decided it was ok for a Viper GTS
to tag along also! He parked next to the EdSled. Surely the 2 finest cars there!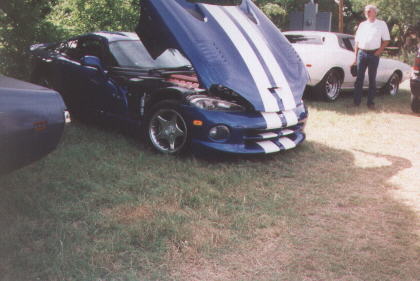 The man who owns this Viper GTS was one of the nicest people I have
ever met! I never got his name but he talked to me for 20 minutes about his
car and the Chargers at the meet! Whoever you are I thank you for talking to
me about your car. I can understand why someone would be burned out driving a magnet like
that around.




All the photo's except for the first photo thats screwed up were taken by my girlfriend Mindy.
They were taken at Luckenbach Texas as we took a 45 minute rest on the cruise!
Thanks again to all the people who made this happen.
Information on The Dodge Charger registry
Don't forget The North American Conquest continues
September 18 & 19, 1999
El Dorado, Kansas
For more info call 316-788-3290 or 316-663-9838