National Dodge Charger Meet
T.D.C Region 3
September 18-19, 1999
El Dorado, Kansas
The region 3 meet was a success this year. It rained all day on Saturday. Despite the rain we had 82 Chargers
attend the meet. We had show cars and rust buckets. Cars under restoration and some rare cars. Special thanks
to Rocky & Marianne and Steve & Kassie for their hard work in setting things up. I was told later the meet even
made the local newspaper the following day.
Now on with the pictures!

In the rain we had some real nice cars! Hoods were up til it began to rain hard.

RAIN!RAIN!RAIN!
This yellow Charger was setup for the 1/4 mile! 5 point,cage,slicks in back.
Real nice 71 SuperBee

RAIN!RAIN!RAIN!
We had 1 Charger 500 there. (driving away and left car in right picture)
Look at the bad ass blue 71 Charger with the white top!
Thats the EdSled!

2 of the baddest cars we had at the meet!
Real nice blue 69 Charger with a radical 440.
See it and hear it and you know!
Right picture is a real nice Charger a 66 or 67. It was under restoration.
Looked like it needed some chrome strips to finish up.
Oh yeah that's a 426 HEMI with 2 4's lookin at ya!

HMMMMMMMM!
A convertible Charger! Rather unique!
Oh yeah thats a 528 CRATE HEMI lookin at ya!

The 2 most rare cars there I think.
Concept car on the left 426 wedge and a 66 Charger on the right.
The 66 had a 426 Hemi and 7000 original miles on it. It was perfect! Its been in magazines!
Today it was in the rain!

And no meet is complete with out some General Lee's!
The trunk lid was signed by John Schnieder (Bo Duke)!

About 3:30pm we had our cruise to Cassidy, Kansas
Most of the cars went on the cruise.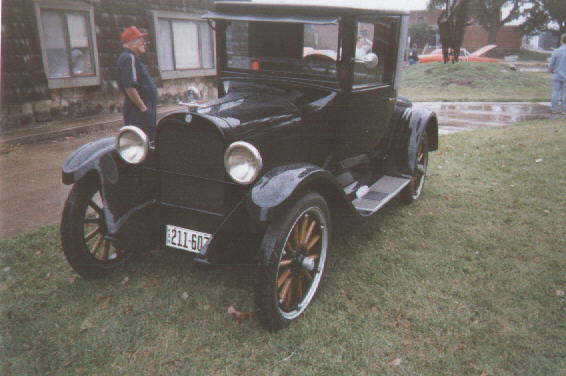 We had one other car show up.
This is a 1923 Dodge Brothers Business Coupe!
It was a slick old car. Kinda looks like an early Charger!
Information on The Dodge Charger registry